Electronic Engineering Department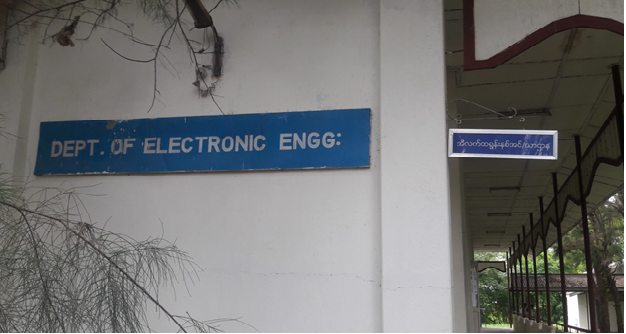 Electronic Engineering deals with the electronic devices, circuits, communication equipments like transmitter, receiver, integrated circuits (IC). It also deals with basic electronics, analog and digital transmission and reception of data,microprocessors, satellite communication, microwave engineering, antennae and wave progression. It aims to deepen the knowledge and skills of the students on the basic concepts and theories that will equip them in their professional work involving analysis, systems implementation, operation, production, and maintenance of the various applications in the field of Electronic Engineering. Course offered include Fundamental of Electronic Circuits,Communication Principles, Electronic Engineering Circuit, Digital Electronics, Microelectronics, Technical Programming, Digital Communication, Engineering Electromagnetic, Integrated Electronics, Modeling and Control, Computer Communication, Digital Design with HDL, Industrial Electronic and Control, Modern Control System, PLC Programming Methods and Techniques, Digital Control System, Microwave Engineering, Modern Electronic Communication Systems, Microcontroller System, Digital Signal Processing, Industrial Management, Computer Networking. Interactive classroom lecture are improved by practical laboratory sitting and propose and do research experience. During the course of study, the students will have an educational guide from whom the students can seek help in identify opportunity to improve their learning experience.
Vision
To become an internationally recognized university that natures highly qualified engineers
Mission
To produce human resources who are capability of supporting the community with technology sector development through quality engineering education
Objectives
To carry out for getting 80% of Students' satisfaction regarding to teaching and learning process in the analysis of Customer Satisfaction in Electronic Department for (2019-2020) Academic Year.
History of Department
The Department of Electronic Engineering offers a range of programs leading toward Master of Engineering (M.E) degrees and Bachelor of Engineering (B.E) degrees. At present, the department has 20 full-time members. Total enrollments include (346) undergraduate students and (9) master students. Students are also doing the regular basic jobs and the special projects at the ends of each academic year. And then, the final year students are also doing the B.E mini thesis and going to industrial attachments.
Contact Information
Address: Department of Electronic Engineering, Pyay Technological University, Pyay, Myanmar